International consortium aims to enable bunkering of sustainable marine fuels on Bornholm by 2025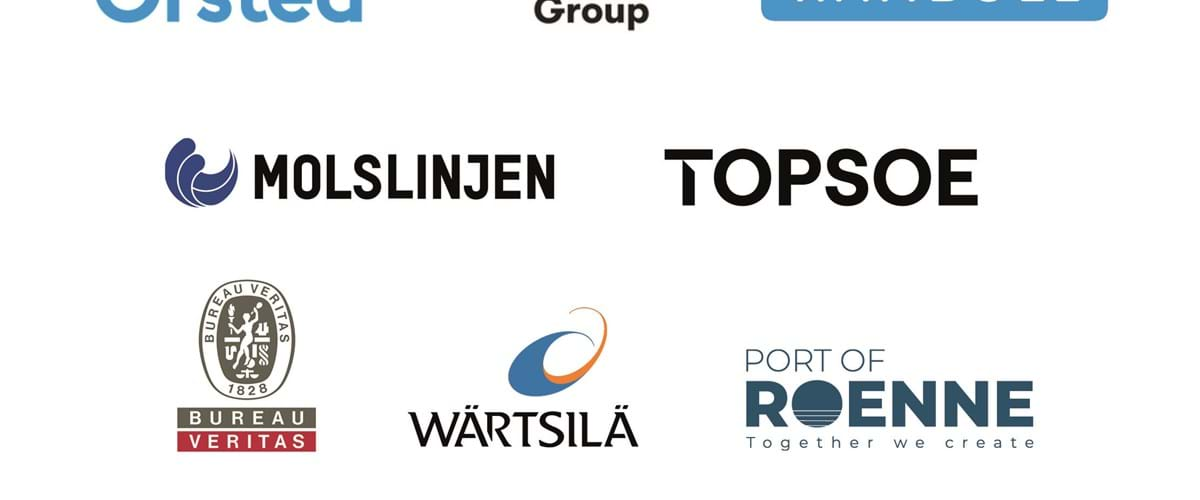 The international consortium Bornholm Bunker Hub is launching a process to find partners and customers seeking to accelerate decarbonisation and refuel vessels with sustainable fuels.
The green transition of shipping in the Baltic Sea is taking a significant step forward with Bornholm Bunker Hub's plans to enable the bunkering of sustainable fuels at the Port of Roenne by 2025.
The ambitious plan for the bunkering of green fuels has become more realistic after the consortium has investigated the possibility of establishing a green bunkering station with sustainable marine fuels at Bornholm. Over the past year, Bornholm Bunker Hub has carried out a feasibility study of the financial potential of supplying sustainable fuels to the shipping industry in the Baltic Sea near Bornholm, potentially using local Power-to-X production of green fuels.
Local production of Power-to-X fuels could be an important part of implementing a competitive bunker hub and is achievable when the Energy Island at Bornholm is established around 2030 with at least 2 GW of offshore wind energy.
To advance the prospects of establishing a green bunkering station at the Port of Roenne, the consortium will now begin looking for partners and customers who want to take part in the realisation of Bornholm Bunker Hub.
As part of the next steps, the consortium will engage potential customers in the Baltic Sea to identify their expected demands for sustainable fuels.
Several major companies are already participating in the consortium. In the long run, the plan for Bornholm Bunker Hub is to be able to supply green fuels, such as methanol and ammonia, to the more than 60,000 ships that pass by Bornholm every year.
The consortium behind Bornholm Bunker Hub comprises eight partners: Ørsted, Molslinjen, Topsoe, Bunker Holding Group, Wärtsilä, Ramboll, Bureau Veritas and Port of Roenne A/S.
Anders Christian Nordstrøm, COO, Ørsted Power2X:
"The demand for green shipping fuels is rising rapidly, and Bornholm's strategic location makes it a natural location for a bunkering hub for marine transport in the Baltic Sea."
Carsten Jensen, CEO, Molslinjen (Bornholmslinjen):
"It is gratifying to see how quickly we can make things happen when all good forces are pulling in the same direction. The green transition will be costly, and it will require the efforts of all of us – the government, business and industry, as well as individual consumers. We must face this challenge together."
Roeland Baan, CEO, Topsoe:
"Reducing carbon emissions from shipping is a big step forward towards combatting climate change. With more than 60,000 ships passing Bornholm every year, the planned refuelling station on the island could have a real impact on the industry's carbon footprint. We are thrilled to be part of this exciting quest, and we will contribute with our extensive knowledge within electrolysis and Power-to-X."
Christoffer Berg Lassen, CCO, Bunker Holding Group:
"In Bunker Holding Group, we are committed to supporting the establishment of the bunker infrastructure needed to supply zero emission bunker fuels to the shipping industry. As we expect to see an increasing demand for green fuels such as methanol and ammonia this decade, we strongly support and encourage projects and collaborations like Bornholm Bunker Hub, which seek to enable the production and supply of sustainable marine fuels."
Gudmundur Langvik-Valdimarsson, General Manager, Sales, Wärtsilä Denmark:
"The Bornholm Bunker Hub initiative will provide important lessons on how the industry can join forces to build future regional green-fuel supply chains for shipping. We see clean energy hubs like this as key enablers for the changeover to green shipping, and safe access to green fuel will be crucial for the implementation of our own clean-engine technology in future vessels. The project is a good example of how we, as an industry, can pool combine our various areas of expertise to take important steps towards transitioning to clean energy in maritime operations." 
Gijsbert de Jong, Marine Chief Executive, Nordics, Bureau Veritas:
"During the initial phase, the Bornholm Bunker Hub consortium has demonstrated that collaboration between companies across the value chain can achieve real progress towards decarbonising shipping. In the second phase, we will be committed to supporting the practical realisation of the group's ambition to supply alternative bunker fuel from Bornholm."
Leif Laszlo Haaning, Market Director, Strategic Sustainability Consulting, Ramboll:
"With this next step, the consortium behind Bornholm Bunker Hub is taking a leap forward towards realising green shipping in the Baltic Sea around Bornholm. We hope to identify potential partners who share our view of the great potential for Bornholm as a bunkering hub for sustainable fuels. At Ramboll, we are proud to be at the forefront of the development of new technologies, as a trusted partner in the green transition."
Thomas Bendtsen, CEO, Port of Roenne A/S:
"We see that Bornholm Bunker Hub has huge potential when it comes to strengthen the Port of Roenne into an energy port focused on the green transformation and the bunkering of green fuels. Together with the other partners in the Bornholm Bunker Hub consortium, we hope to take advantage of Bornholm's unique position in the Baltic Sea and generate growth for Denmark and Bornholm."
Members of the Bornholm Bunker Hub
Ørsted is a world leader in the production of renewable energy from offshore wind and has the ambition of becoming a global leader within renewable hydrogen and green fuels. Orsted.com
Bornholmslinjen is a division of Molslinjen, which is dedicated to reducing energy consumption and carbon emissions on all routes operated by Molslinjen in Denmark. The ferries deployed on all the routes serving Bornholm are potential purchasers of green fuel from Bornholm Bunker Hub.
Molslinjen.dk
Topsoe is a world-leading supplier of technology to the chemical industry and refineries. The company focuses its efforts on developing technologies that reduce carbon emissions. Topsoe has also developed new technologies for the production of green fuels based on electricity from wind turbines and solar PV cells, such as ammonia and methanol. Topsoe is already involved in multiple projects focused on green fuels worldwide, including the Helios project, which includes the world's largest ammonia plant.
Topsoe.com
Bunker Holding Group is the world's largest supplier and trader of marine fuels. Since 1981 the company has specialised in purchasing, selling and supplying fuel and lube oil to ships and in the area of risk management. Its subsidiary, Bunker One, which is responsible for the physical delivery of marine fuel around the world, is actively involved in several green projects; this know-how will contribute important insight to the green bunker hub project on Bornholm. Bunker Holding is owned by the USTC Group, headquartered in Middelfart and represented in 33 countries.
Bunker-Holding.com
Wärtsilä is a global leader in innovative technologies and lifecycle solutions for the marine and energy markets. The company emphasises innovation in sustainable technology and services to help its customers continuously improve their environmental and economic performance. They have a dedicated, enthusiastic team of 17,000 professionals in more than 200 locations in 68 countries shaping the decarbonisation transformation of its industries across the globe.
Wartsila.com
Ramboll is a global, multidisciplinary consulting firm with a leading position in Denmark and offices in 35 countries. As such, the company is involved in energy infrastructure projects around the world and sees a growing interest in adding Power-to-X production to renewable energy projects that increase the value of the power produced. Having designed more than half of the world's wind turbine foundations and being the first Danish consulting firm to get its 1.5% targets approved by SBTi, Ramboll goes all-in on sustainability and supports the green energy transition from strategy to planning and execution.
Ramboll.com
Bureau Veritas is a world leader in laboratory testing, inspection, and certification services. Created in 1828, the group has 80,000 employees in more than 1,600 offices and laboratories around the globe. With a classed fleet of more than 11,500 ships, Bureau Veritas is the world's largest classification society in terms of assets. By supporting clients with practical advice, tools and technology to make the right decisions to run a safe, sustainable, and high performing business, Bureau Veritas helps them navigate the energy transition.
marine-offshore.bureauveritas.com
Port of Roenne A/S is Bornholm's only commercial port and a hub for ferry routes to Sweden, Denmark, and Germany. The port was chosen as the installation port for Denmark's largest offshore wind farm, Kriegers Flak, and the port is expected to play a key role in the realisation of the future energy island project off the coast of Bornholm, with electrical connections to Denmark, Poland, Germany, and Sweden.
Portofroenne.com