Aarsleff handing over new port construction to Port of Roenne in the Baltic Sea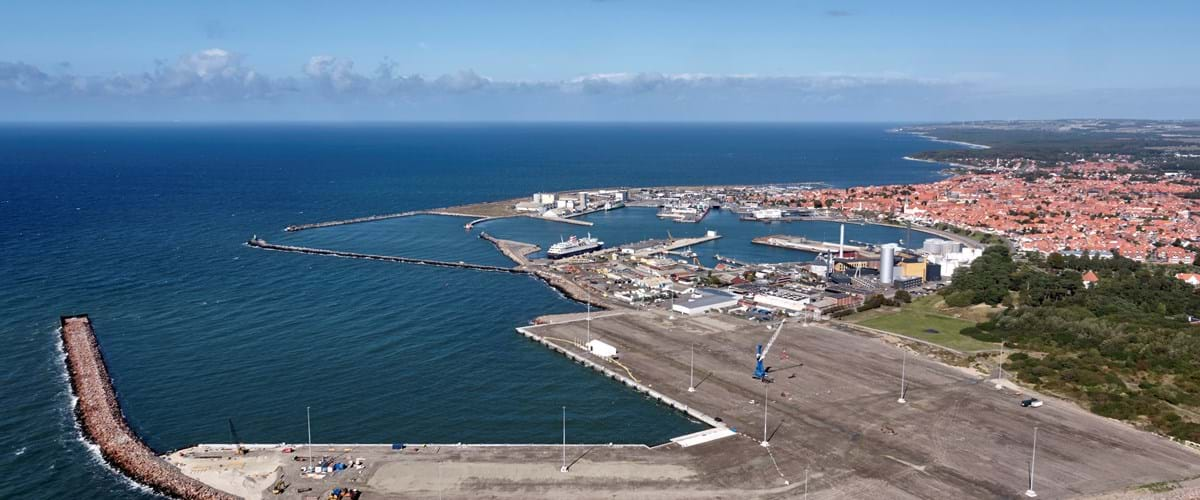 Bornholm has grown. The island has grown to 150.000 square meters as a result of a new construction at Port of Roenne in the Baltic Sea, where quays now have a carrying capacity up to 50 tonnes per square meters. A construction site that, in addition to creating local history, has also made it possible to become the pre-assembly port for the offshore wind farm at Kriegers Flak.
Soon wind turbine parts will be loaded and unloaded on a 150.000 square meter newly built project area at Port of Roenne at the island of Bornholm in the Baltic Sea. An area that used to be a part of the sea – is now an onshore working area consisting of sand, shards and granite and which - now and in the future - will take part in the great business history in the most eastern part of Denmark.
Port of Roenne marked the end of construction together with approx. 5.000 local citizens and stakeholders during a grand party on June the 8'th, but the formal handover from contractor to developer took place on October the 4'th this month.
"On behalf of the organization and I, I must say that it has been fascinating to follow the physical progress of the construction, where we have now obtained a total of 575 meters of berth, which has a carrying capacity of up to 50 tonnes per square meter. The collaboration has been good and the contractor has managed to deliver a high-quality construction – even on time. I can only express my full satisfaction with that," says Thomas Bendtsen, CEO of Port of Roenne A/S.
At the construction company they are satisfied:
"Throughout the period we have had a good common understanding and a good cooperation on the new port. It has been an exciting project to be a part of. Our team has worked purposefully and hard, and we are extremely proud of the great result, which is now definitively handed over to Port of Roenne," says Rene Kold Søndergaard, department engineer at Aarsleff.
The new port construction is already in operation.
The large project area with a carrying capacity of up to 50 tonnes is now totally ready to load and unload wind turbine parts for the many upcoming projects in the Baltic Sea area and the first project is Kriegers Flak with a capacity of 600 megawatts.
For further information contact:
Vicki Johansen, Press Officer at Port of Roenne, on tel. +45 24 79 47 29
Rene Kold Søndergaard, Department Engineer at Aarsleff, tel. +45 20 26 33 42