Extraordinarily high port activity in Rønne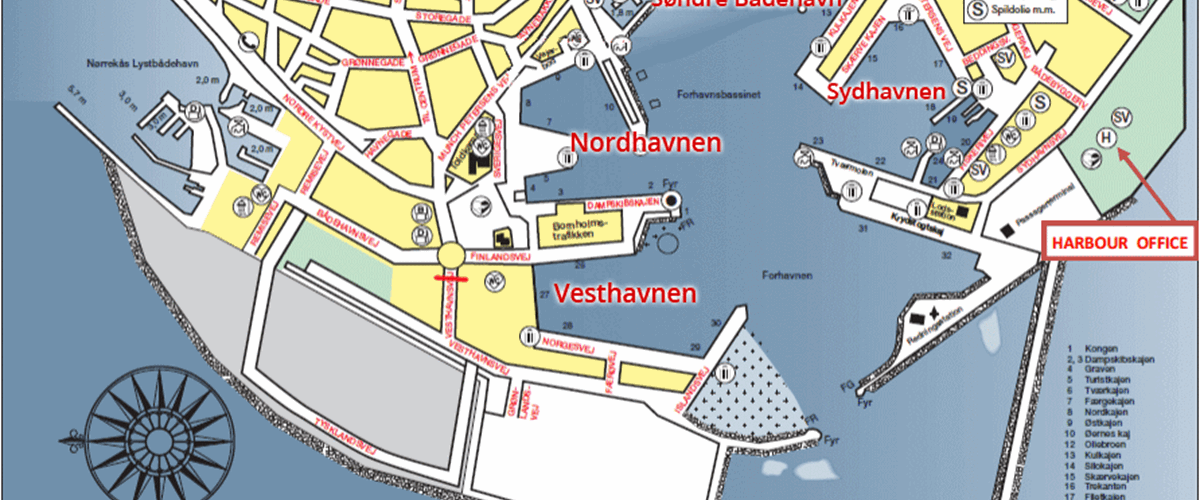 Many types of vessels moor at Rønne Harbour this week. The People's Meeting naturally sets the stage for activity, but most harbour activities have nothing to do with the People's Meeting. Cruise calls, bulk work, NATO exercise and harbour expansion drive a big part of the port's business activities right now. And the activity level is higher than last year, is the message from Rønne Harbour.
Several ferry departures have been inserted during the week for The People's Meeting on Bornholm, and all ferries are filled to the breaking point. Naturally, it is beneficial for business at Rønne Harbour, who runs the port operation. But it is actually just a small part of the business activities taking place right now.
"The demand for bulk has grown, and the activity in this segment has increased – it is higher than the previous years. Besides, we are well under way with the first stage of the port expansion, where dredgers and bunker vessels plus barges with stone and steel orders dock at a regular basis," says Thomas Bendtsen, CEO at Rønne Harbour.
Then, when NATO decides to send 43 naval vessels on an exercise in the Baltic sea, it also grants us a few visits.
 "We are receiving several military vessels, and at the same time the cruise ship CLIO are paying us a visit – but we also have a number of vessels with woodchip and broken stone. So, the activity level at the harbour is very high," says Ulla Kiersgaard, who – like an air traffic controller at the job – has the overview when it comes to arrivals and departures planned according to available quay capacity.
But even though The People's Meeting isn't the main reason for the activities in the harbour right now - the task demands resources.
"We start planning a whole year ahead and cooperate with a lot of authorities in order to run the infrastructure in a smooth and efficient way. We collaborate with the Danish Emergency Management Agency, the Navy, the local police, PET and the Home Guard. It's a great pleasure and everything is working out at a professional level," is the concluding message from Ulla Kiersgaard.